The A-LIST students worked hard throughout the 2016 year to help connect the library with students through research assistance, outreach initiatives, and programming. 
Major Accomplishments during the Spring 2016 Semester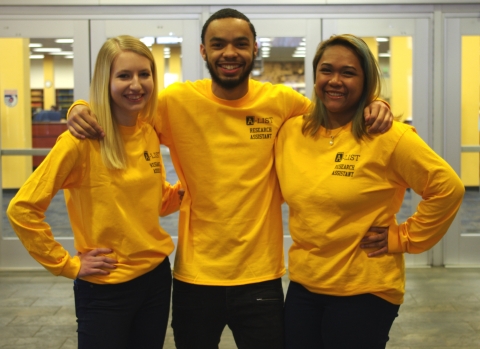 Completed A-LIST training book and associated reflective blogging
Attended 20+ hours of leadership training through iLEAD and other leadership opportunities 
60 hours of research assistance at the Research Help Desk
28 hours of research assistance at the Writing Center
Represented Cook Library at 4 different university open house events
Curated 4 different book displays: Women's History, Financial Literacy, Graduation Resources, Baltimore Uprising.
Hosted 3 different student group study parties (Transfer Student Organization, Filipino Cultural Association, Girls Track Team)
Surveyed over 100 students on the website redesign
Led over 60 high school students in a book discussion on the book All American Boys
Assisted in lesson planning and teaching two classes
Posted numerous Instagram photos and other social media posts on behalf of the library
Took photos for a donor event photo slideshow
Assisted with a New York Times Talk related to political literacy
Planned National Library Week events
Planned Finals Week incentives
Helped lead the Cook Library Student Advisory Board
And much more!!
Much more to come in Fall 2016 including planning an orientation fair, a Human Library event, and collaborating with Disability Support Services!