The Albert S. Cook Library Leadership Institute for Students (A-LIST) offers participants experiential learning opportunities in leadership, research, writing, teaching, and outreach. These opportunities enable A-LIST students to give back to their peers, the library, and the university.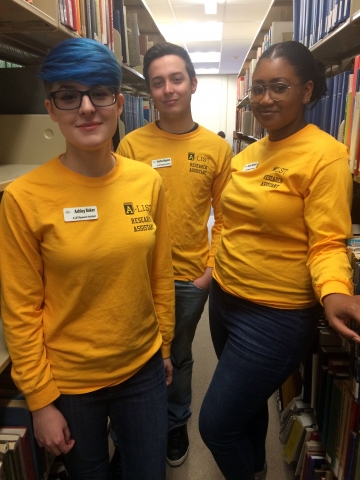 Program Purpose
promote academic success
prepare student participants for engaged citizenship
enhance library visibility via innovative outreach
A-LIST student responsibilities include: peer research assistance, library outreach and marketing, leading workshops and tours, assisting in the classroom, leading library related projects, and participating in leadership and library related development. 
Cook Library's responsibilities to A-LIST students include: mentorship, experiential learning, leadership opportunities, career development assistance, and a platform for creativity and innovative thinking.
Three highly qualified students are accepted into the program each spring term for a year-long commitment.
The A-LIST is funded by your generous donations. Your donation supports this program.
Program Alumni
Meet previous A-LIST cohorts and learn about their many accomplishments.