Towson University Libraries' Instruction Program supports and strengthens the learning, teaching, and scholarship of the Towson University community. With an emphasis on the University Core Curriculum and discipline-specific curricula, librarians collaborate with faculty to integrate information literacy into student learning experiences. The Libraries' Instruction Program contributes to academic inquiry and research skills, critical thinking, reading, writing, and knowledge creation.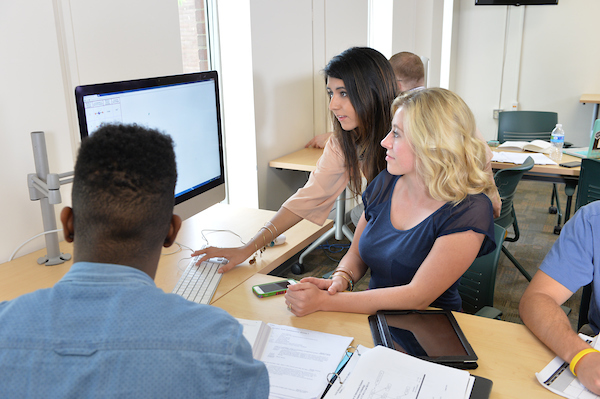 By the numbers
Last year, librarians taught over 12,000 students as part of 600+ instruction sessions.
Every discipline or academic program on campus has a subject librarian who can provide course-integrated information literacy instruction. Subject librarians prepare sessions to align with course content, assignments, and programmatic or discipline-specific information literacy goals.
Special Collections and University Archives provides information literacy instruction in archives and primary source materials, including topics specific to Towson University history. Contact Ashley Todd-Diaz, Assistant University Librarian for Special Collections and University Archives, for more information.

Information literacy instruction will be delivered in person and online. Contact Allison Jennings-Roche, Instruction Coordinator, with any questions.
Instruction Policies
Course integrated library instruction is a key factor in student success; collaborative planning between subject librarian and departmental faculty ensures the optimum outcome for student research.

Before your session, please provide your subject librarian with a copy of the specific assignment to be addressed within the library instruction session.

Minimum one week's lead time is necessary for library faculty to prepare for sessions.