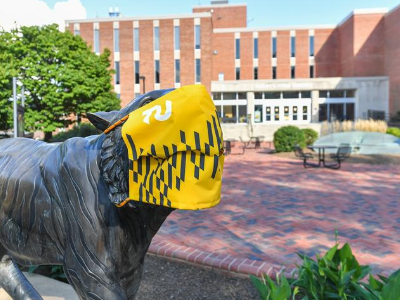 This details what to expect beginning Thursday, August 27th.
This website details the plans for returning to Albert S. Cook Library's physical space, including:
What visitors can expect when they come to the library and what visitors must do in order to keep themselves and others safe

What resources, services, and spaces will be available when Cook Library is open
Our current services and access are meant to protect the health and safety of library visitors and staff. We might have to make changes quickly as circumstances change. Thank you for your understanding.
What to Expect
Before You Leave, Make Sure to
Check That We're Open. The 2nd and 3rd floors are open 9am to 5pm from Monday through Friday. The 4th and 5th floors are closed. The 24/7 Space will be open 24/7 with very limited occupancy starting Monday 8/24 at 9am.
Check the Occupancy. You can see how much space is available on the Library Website when the library is open.
Bring Your TU OneCard. The library is only open to TU students, faculty, and staff. Your OneCard is required to enter the building.
Bring Your Mask. Wearing a mask/face covering is required in all TU facilities. Please see TU's Masking Protocols for additional details.
Leave Your Food at Home. While sipping drinks is permitted, food cannot be consumed in public spaces in the building.
Entering the Library
Swipe Your OneCard. You will need to swipe in to the building using the swipe card reader on the right-most lobby doors in order to enter. Please do not hold the door for others. Each individual needs to swipe.
Be Counted. In order to keep everyone safe, we have limits on how many people can be in the building at a time. When the library is open, you will walk past someone who will count you.
Listen for the Capacity Stops. If you are stopped by a security guard because we are at capacity, please exit the building and return later.  
Grab a Wipe at the Sanitizing Station. You'll find sanitizing stations throughout the Library and you're going to want to wipe down your space and any shared technology that you're going to touch before you use it.
Using the Library
Follow Directional Signs. In areas where space is tight, like the stairwells, arrows on the floor will tell you what direction you can go. The stairs in the back of the building can be used to go up and the stairs in the front of the building can be used to go both up and down in the building.
Sit or Wait Only in Designated Space. Look for a tiger sticker telling you can sit in that space. Also look for Xs on the floor telling you where you can wait to use restrooms, scanners, printers, etc.
Keep Furniture Where You Find It. Our staff worked really hard to make sure that all designated spaces are a safe 6 feet apart. We'd like to keep it that way.
Computers, Printers, and Scanners are Available for Individual Use. Group study is not available and spaces are not reservable.
Stay Out of the Shelves. For safety reasons, we can't permit visitors to browse in the Stacks (shelves on the 2nd, 4th, and 5th floors with books and other items you can check out), Leisure Reading, Leisure Viewing, or the Microfilms Collection. If you need a print reference book, you can use it but please place it in one of the carts on the floor so that the item can be safely quarantined.
Get Help at the Kiosk. If you have a question, stop by the kiosk on the main floor and say hi
Keep 6 Feet Apart. As you are moving throughout the building, be mindful of how close you are to others.
Leaving the Library
Take Your OneCard with You. If you are leaving the library to go to Starbucks, you will need your OneCard to get back in so please make sure you take it with you.
Clean Your Workstation. Grab a wipe at the sanitizing station and wipe down your space before you leave.
Be Counted. When the library is open, you will walk past a someone who will count you as having left the Library.
What's Available
Spaces
The Library building will be open to TU students, faculty, and staff only for limited hours with reduced capacity, spaces, and services.
There are some exceptions:
The 4th and 5th floors are closed.

The Stacks (shelves on the 2nd, 4th, and 5th floors with books and other items you can check out), Leisure Reading, Leisure Viewing, and the Microfilms Collection are closed for browsing
24/7 Space
The 24/7 Space is open with limited capacity starting at 9am on August 24th. During hours when the library is open, visitors will need to enter and exit the space through the library-side entrance.
Group Study
Group study spaces are single occupancy only and are no longer reservable.
Guest Access
The Library building is not available to non-TU affiliates at this time.
Restrooms
The restrooms are open with limited occupancy. There are Xs on the ground to mark waiting areas. Hand dryers have been disabled.
Interfaith Meditation Room
The Interfaith Meditation Room (404C) is open and can be accessed using the back elevator or stairs.
Resources
Computers, Scanners, and Printers
Both PCs and Macs are available in limited numbers throughout the building.
Scanners and Printers are also available.
Please be sure to wipe any library technology you touch with a university-provided wipe before and after you use it.
Borrowing Books
Contactless pickup of TU books is now available!
Due to construction on the 5th floor, books with call numbers A-M are unavailable and cannot be requested. We expect to make these items available sometime this fall, but time sensitive needs will be better met by contacting your liaison librarian to locate alternatives. 
Interlibrary loan services are currently available for requesting electronic and some print materials, which may be a helpful substitute for getting a book chapter that's inaccessible on the 5th floor.
How do I request a book?
Find an available Cook Library book or other item on the Library website

Click on the "Request Item" link

Follow the prompts through the "Confirm Request" button to complete your request

We will pull the item from our shelves and check it out to you

We will send you an email letting you know when your item is ready for pickup

Pick up your item in the Library lobby during open hours

Items will be available for pickup for 10 days before being reshelved.
You can check the status of your book requests and loans by signing in to your account on the library website.
Returning Books
Borrowed materials can be returned to the book drops in front of the building and in front of the Media Center.
Many materials can be renewed online and due dates of TU items have been extended until September 4, 2020. Fines and fees are being waived at this time for physical materials that cannot be renewed or returned. Please contact Circulation Supervisor Kevin Fry if you have questions about your account.
Course Reserves
Cook Library will not offer physical course reserves of any kind for the fall 2020 semester.
E-reserves will be available for the fall 2020 semester. We are working on processing e-reserves requests, but please know that fulfillment may be delayed due to limited staff availability.
Special Collections & University Archives
SCUA staff are available via chat and for virtual consultation during limited hours. Visit the SCUA website for additional details.
Building Partners
The following offices located within the library are conducting virtual appointments:
Services
Help Kiosks
Help kiosks are located on the main floor of the library. These kiosks will allow you to video chat with a library staff member during Ask a Librarian (Chat) hours. To ask a question, just stop by a kiosk and say hi.
Text, Chat, Phone, and Email Help
Librarians and library staff are also available via chat, text, and phone during limited Ask a Librarian (Chat) hours to answer quick questions.
The Research Help voicemail is checked once per day (M-F). For more immediate assistance, please click on "Chat with a Librarian" during research help hours or get help via Ask a Librarian.
You can also contact your liaison librarian via email if you have a more in-depth question.
Instruction
All library instruction will take place virtually at this time. Please contact your liaison librarian for assistance.
Can't make it to Cook? No problem! We also have many resources and services available online.