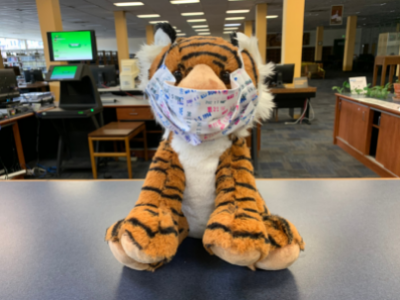 This page details what to expect when you visit Cook Library in person.
This website details the plans for returning to Albert S. Cook Library's physical space, including:
What visitors can expect when they come to the library and what visitors must do in order to keep themselves and others safe

What resources, services, and spaces will be available when Cook Library is open
Our current services and access are meant to protect the health and safety of library visitors and staff. We might have to make changes quickly as circumstances change. Thank you for your understanding.
What to Expect
Before You Leave, Make Sure to
Check That We're Open. All floors are now open during our regular hours and the 24/7 Study Space is open.
Check the Occupancy. You can see how much space is available on the hours website
Bring Your Mask. Beginning Monday 8/16, all individuals are required to wear a mask/face covering in all TU facilities. Please see TU's Masking Protocols for additional details.
What's Available
Spaces
The Library building is open to TU affiliates and other guests during our open hours.
24/7 Space
The 24/7 Space is open.
Group Study
Group study spaces are now reservable again.
Interfaith Meditation Room
The Interfaith Meditation Room (404C) is open and can be accessed using the back elevator or stairs.
Resources
Computers, Scanners, and Printers
Both PCs and Macs are available in limited numbers throughout the building.
Scanners and Printers are also available.
Borrowing Books
Users can now browse and our shelves and check out books at the Circulation Desk on the main floor.
Returning Books
Borrowed materials can be returned to the book drops in front of the building and in front of the Media Center.
Fragile materials can be returned to the bin marked for fragile materials at the Circulation Desk during the library's open hours.
Many materials can be renewed online. Please contact Circulation Supervisor Kevin Fry if you have questions about your account.
Course Reserves
Cook Library is offering Physical and E-reserves at this time.
Interlibrary Loan and Document Delivery
Requests for print and electronic articles, chapters, and books not owned by Cook Library may be submitted using the ILL form.
Faculty, staff, and graduate students may submit document delivery requests using the ILL form for articles or books chapters owned by Cook Library. ILL staff will scan the article or chapter from our print collections and deliver to the requester electronically, via their ILL account.
Special Collections & University Archives
SCUA on the 5th floor has reopened for in-person research. Visit the SCUA website for additional details.
Building Partners
The following offices located within the library are conducting virtual appointments:
Services
Text, Chat, Phone, and Email Help
Librarians and library staff are available in-person and via chat, text, and phone during  Ask a Librarian (Chat) hours to answer quick questions.
You can also contact your liaison librarian via email if you have a more in-depth question.
Instruction
Library instruction sessions will take place in-person and virtually. Please contact your liaison librarian for assistance.
Can't make it to Cook? No problem! We also have many resources and services available online.