The ongoing two-year program is designed to provide a new librarian from an underrepresented group with a broad introduction to academic librarianship, a supportive environment for professional exploration, and an opportunity for concentrated experience in an area of specialization.
During the first year, the Library Resident gains experience and provides services in three departments: Content Management, Research & Instruction, and Special Collections & University Archives.
In the second year the Resident specializes in one area and works on a project suited to his/her professional interests while simultaneously addressing the needs of the library. A goal of this capstone project is for the Resident, working independently or with a mentor, to develop, complete, and report research at a professional conference or in a professional journal. With the range of academic librarian experiences as well as specialization, the Resident will be well-prepared for future career opportunities.

"Since I'm encouraged to pursue so many library and academic avenues, I know that I'll have a more focused career path when my residency is completed."
SHANNON SIMPSON, COOK LIBRARY'S FIRST RESIDENT
History of the Program
The Albert S. Cook Library and Towson University launched the Library Residency Program in the Fall, 2009. The first library in Maryland to offer a residency in academic librarianship, this program was initiated by University Librarian, Deborah Nolan, in order to promote diversity in the profession, as well as at Towson University, and to bring new perspectives and fresh ideas to the Cook Library.
Towson University Library Residents
2019-Present: Myiesha Speight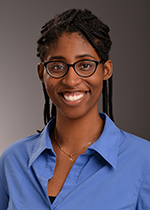 Myiesha Speight is the Resident Librarian at Towson University. Myiesha holds a Bachelor's of Arts Degree in English with a minor in History from Winston-Salem State University in Winston-Salem, North Carolina. In 2019, she received her MLiS with a specialization in Diversity and Inclusion from the University of Maryland College Park's iSchool located in College Park, Maryland. Her interests include diversifying young adult and children's collection and bolstering accessible and inclusive library spaces and websites.
2017-2018: Morgan Davis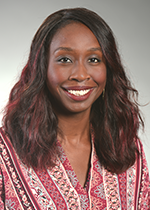 During her first rotation, Morgan created and implemented a new Section 508 compliant workflow to simplify the faculty submission process for Towson University's institutional repository, ScholarWorks@Towson. Morgan also organized a catalog reconciliation for Towson University's Maryland State Government Documents collection. In her second rotation, Morgan designed an information literacy curriculum and instructional tools to guide students through the research process. Additionally, she designed an information literacy curriculum and instructional tools to guide students through the research process. Morgan did not complete a capstone year, since she left Cook Library to pursue a role as a Music and Arts Librarian – a great match for her skills and interests!
Morgan received her MLS from the University of North Texas in Denton, Texas. Morgan's interests include scholarly communications, open educational resources development, information literacy instruction and research guidance.
2015-2016: Alyse Minter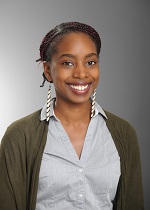 In her first year of rotations, Alyse cataloged and processed serials for the Baltimore Hebrew Institute collection. She created metadata for the Martyrdom & Resistance digital collection. With the Research and Instruction division, she designed and implemented information literacy curriculum and programmatic assessment. Alyse also collaboratively piloted a student organization outreach program, focusing on academic enrichment and cultural affinity groups.
Alyse brought with her a background in education and literacy, and a passion for supporting student success and retention to her residency. After her first year she was hired as a liaison supporting the Towson University College of Education, a role she held for two years before accepting a position at the Congressional Research Service.
2013-2015: Sarah Espinosa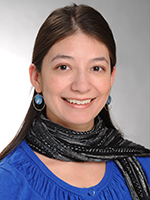 Sarah's projects as Residency Librarian included organizing and implementing an inventory of Cook Library's reference collection, which will provide a model for similar inventories of other library collections. Sarah created a cloud-based database of video licenses, making it easier for staff to determine performance rights for library films. Sarah also developed a metadata schema for a University Archive digitized collection. An active participant in the library's assessment and marketing committees, Sarah facilitated a focus group for undergraduate students.
Sarah received an MLS from the University of Maryland in 2013. Sarah's interests include information architecture, web design, and assessment. As a graduate student assistant, Sarah assisted UMD Libraries' Special Collections Department. Sarah's many talents, rich background, and passion for service to diverse individuals benefitted Cook Library.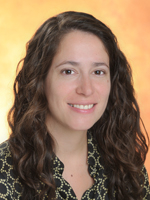 Towson University welcomed Sara Arnold-Garza as the 2011-2013 Residency Librarian. Sara graduated in 2011 from the School of Information at the University of Texas at Austin where she earned her MSIS.
As resident, Sara completed rotations during the first year in each of the main units of the library. In the second year she completed a capstone project, leading a team of librarians in a pilot of the flipped classroom for library instruction.
Sara's focus during her term was to bring innovation to library services and to promote diversity in the profession. With her intelligence, organizational skills and commitment to diversity, Sara is a great asset to Towson University. She continues at Cook Library as a librarian and coordinator of the residency program.
Inaugural Library Resident: Shannon R. Simpson
Out of more than 300 applicants, Shannon Simpson was selected as Towson University's first Library Resident. Shannon received a MLIS from Kent State University, where she was also a graduate student assistant in the University Special Collections and Archives.
During her term, Shannon completed projects in technical services, research and instruction, marketing, and archives. Choosing to make diversity initiatives part of her residency, Shannon joined the University Diversity Action Committee and led an oral history project with children at Arundel Elementary/Middle School in Cherry Hill, a low-income neighborhood.
With her excellent academic credentials, many talents, wealth of experience, and great personality, Towson University was fortunate to have Shannon as our first Residency Librarian!