The struggle is real. Let us help!
Students in the A-LIST (Albert S. Cook Library Leadership Institute for Students) program will be available to help you with your research needs around Cook Library and across campus! Look for their gold shirts in the Library, the Writing Center, and at events around campus.2016 A-LIST Students
Spring 2016 Hours:
Mondays 1-2pm and 2-4pm in the Writing Center
Tuesdays 11-2pm and 11-1pm in the Writing Center
Wednesdays 1-2pm
Thursdays 11-2pm
They can help you:
•    With an introduction to the library
•    Find articles and books
•    Navigate the Library's resources
•    Cite resources
•    Print and use library technology
•    No question is a bad question! 
They know the struggle is real, and they are ready to help!
Questions about the program?
Coordinator of Student Engagement & Outreach, Carissa Tomlinson (ctomlinson@towson.edu)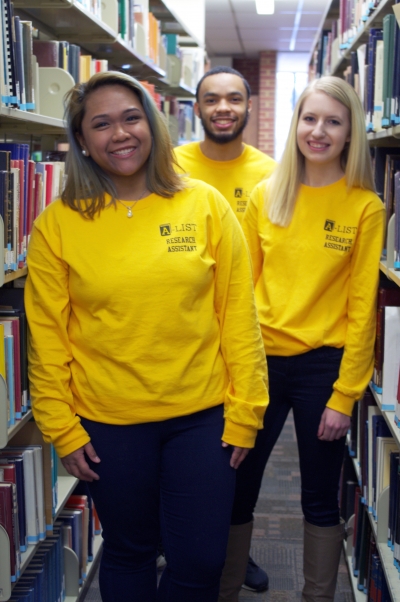 Find an A-LIST Student Around Campus
Look for their gold shirts in the Library, the Writing Center, and at events around campus
By Appointment
Set up an introduction to the library: a-list@towson.edu
______________